In 2012 I travelled to China as part of a team running the Volkswagen Pavilion at Auto Guangzhou, one of the largest car and auto exhibitions in the world. The agency I worked for at the time built an interactive video background wall for a fashion show as part of the presentation. Using 3 Microsoft Kinects mounted below a 54m2 LED wall, we built a motion-sensor-triggered series of animations synced to music that would fire overtop of another video whenever a model walked past one of the Kinects.
In the weeks and months leading up to the show I designed and built all of the technical schematics and setup for our portion of the event. Determining the best deployment of equipment, cabling, power management, and ensuring all the gear required was purchased in advance or would be waiting at the pavilion for us when we arrived. This involved many many phone calls with our partners in China in an effort to ensure we'd have our setup completely locked in place with no surprises.
During the event itself I managed the A/V booth (pictured below), running the on-screen content and audio mix for the fashion shows. For two weeks this show ran eight times per day. You can imagine how burned into my mind the soundtrack was by the end of the exhibition.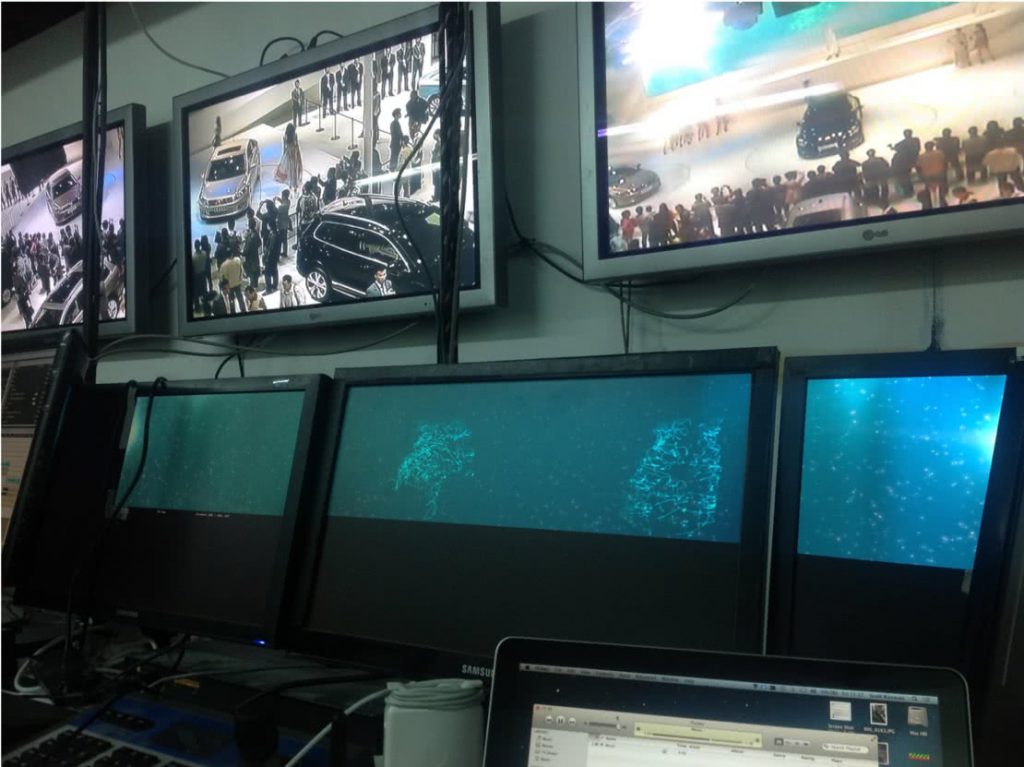 As far as I know this is the only video in existence of our show, unfortunately the quality is fairly poor (I deputized someone to run out and record it using my iPad) but you can clearly see the different visual effects in play. The crowd reaction during some of these moments was intense and definitely added a lot to the show.